Double Sun Painting - Study, 1960, oil on masonite, 61 x 122cm, SOLD
The quintessential Bloore image may be the star burst circle. Mandalas abound in art and indeed in much of Bloore's art, but these radiating discs almost became a kind of trademark. A number of them pop up here and there in this exhibition. But the very first appearance of the star motif is the pair we see here which lead to three more paintings in the year 1960.
There is a 4 foot square single disc (above left) in the National Gallery dated "June 1960." The very similar "White Sun Green Rim" (above middle) is listed in a number of exhibition catalogues, but always as just "1960." The large 4-by-8-foot "Double Sun Painting" (above right) was in the "Five Painters from Regina" show in 1961 and the Not Without Design show of 1991. It is still in the estate collection and is dated "May 1960." The 2-by-4-foot "study" here is dated "1960." We should also note that Bloore said that in those days some full size 4-by-8-foot panels were bisected during execution when formal problems arose and were completed as squares, giving as an example the green painting at the MacLaughlin Gallery.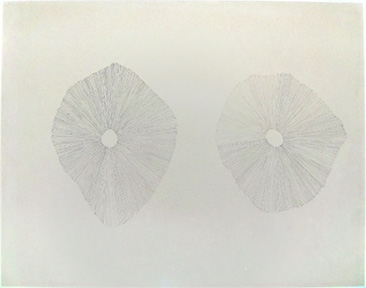 The double sun drawing at the Art Gallery of Greater Victoria (above left) which also hung in the National Gallery's "Five Painters from Regina" show and the nearly identical drawing at the Mackenzie Art Gallery (centre) are both just dated "1960." But the single sun drawing at the Art Gallery of Peterborough (right) is dated "Lac LaRonge / July 1960." Bloore has said that this drawing started as another Double Sun but he messed up the second disc, so he cut the paper in half, punched a hole in each corner and called it correct. A third double disc drawing is known to exist in a private collection in Toronto.
So this was the first of these very important paintings which hung everywhere from Vancouver to San Paolo, Brazil, from London, Ontario to London, England. All four of them hung at some point in Dorothy Cameron's Galleries in Toronto. Three of the four were included in the nationally travelled retrospective Ronald Bloore, Sixteen Years 1958-1974 and this painting was reproduced in the catalogue of that show. It is listed as "Double Sun Study" and this was obviously accepted by the painter but that phrase does not appear on the back of the painting.
A studio copy of a 1974 exhibition catalogue has a note in Bloore's hand next to this work, "Doubly for Dorothy." It would have been one of the half-dozen or so paintings he gifted to Cameron which redounded to himself upon her death in 1999. From their marriage in the early seventies until Ron's death in 2009, it hung over their bed and, in each of their three homes, the bedrooms were painted a matching soft pink colour.
---
Dorset Floating Bear, 1971, oil on masonite, 244 x 109cm, SOLD
In the late 1960's when the director of the National Gallery of Canada could not undertake nor cancel a tour he had arranged to visit the peoples of Canada's north he asked Bloore if he would go in his stead. It was, Ron knew, the chance of a lifetime and his first wondrous trip to the arctic. After the extensive and intensive tour Bloore produced many official reports and scholarly writings, book contributions, reviews and magazine articles, including a long feature article in a large special issue of artscanada devoted to "The Eskimo World" (Dec.'71-Jan.'72), all pleading for a civilized respect the culture could, of course, never receive.
Below in the centre, is a superb photo by the legendary photographer Eberhart Otto. Otto had accompanied Bloore on a second trip to Baffin Island for artscanada magazine and was, according to the painter, the only man who could shoot his works properly. It is the two star Bear that hung in the widely travelled show Ronald Bloore, Sixteen Years, 1958-74. This image was reproduced in colour in the catalogue - the only colour image in it - and in artscanada magazine. To take the shot they floated the work out on the grass in the field beside Stong House which served as Bloore's studio on the York University campus from 1966 to '85. It presents the painting as a sculpture, reminding us of the many implications of that aspect of Bloore's approach - the fact that these oil paint surfaces are carved with hand tools and sanded by machine.
The three known Dorset Floating Bears (all reproduced here) are not numbered and not even all inscribed. Two of the Bears have four and a half star shapes. The third, with two and a half star shapes, which starred in Ted Fraser's Sixteen Years catalogue is now in the provincial gallery of Ontario, though that gallery did not host a stop of the exhibition. The photo at the right shows this Bear hanging in Bloore's last show in Toronto at the Moore Gallery. Ron's colleague and good friend, sculptor Don Bonham relaxes to the left.
---
Byzantine Light VIII, Sept. 18 1975, oil on masonite, 53 x 76cm
"Go into the Blue Mosque and the Hagia Sophia in Istanbul where SPACE, rather than the object, is really the sacred thing. And you become identified with it. You're enveloped with the space and light."


- Symposium on the Sacred in Art, CBC-TV (transcribed in artscanada, April/May 1971)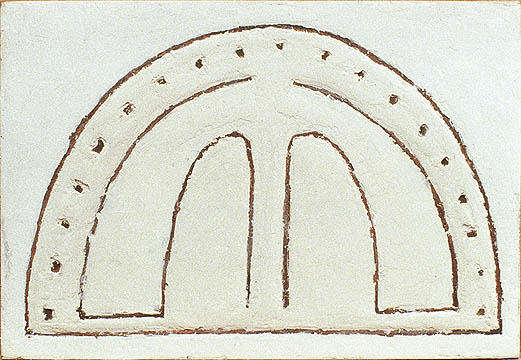 Byzantine Light XIX, Dec. 16 1975, oil on masonite, 53 x 76cm
Byzantine Light XXVIII, Feb. 1 1976, oil on masonite, 61 x 76cm
Byzantine Light XXXV, Dec. 15 - Feb. 2 1976, oil on masonite, 61 x 76cm
---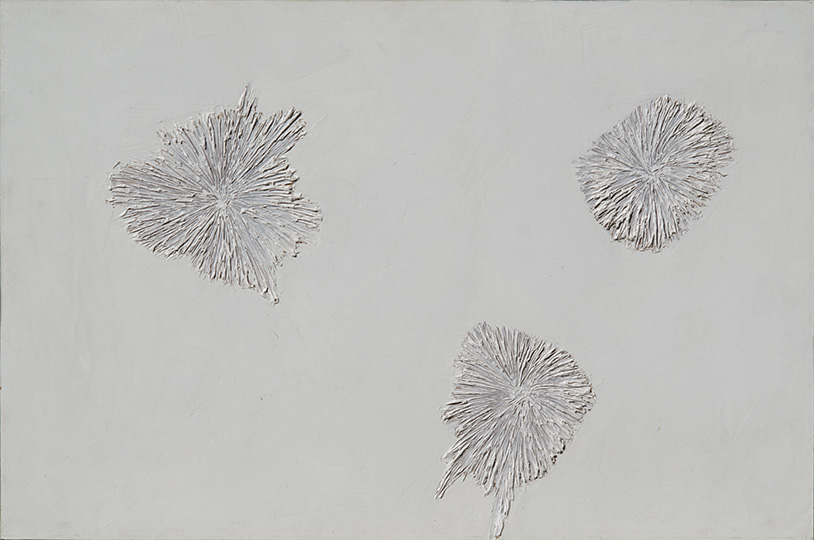 1979, oil on masonite, 61 x 91cm - SOLD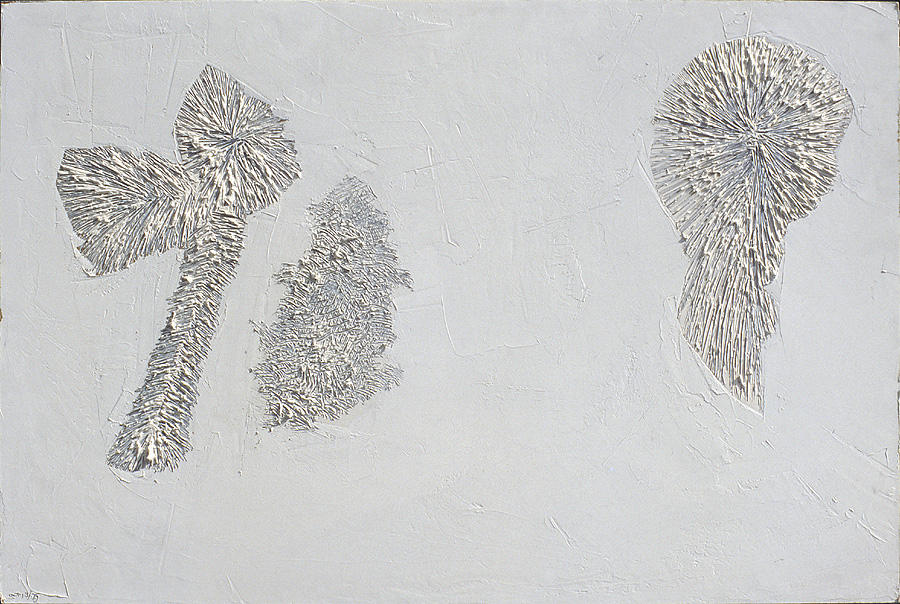 ---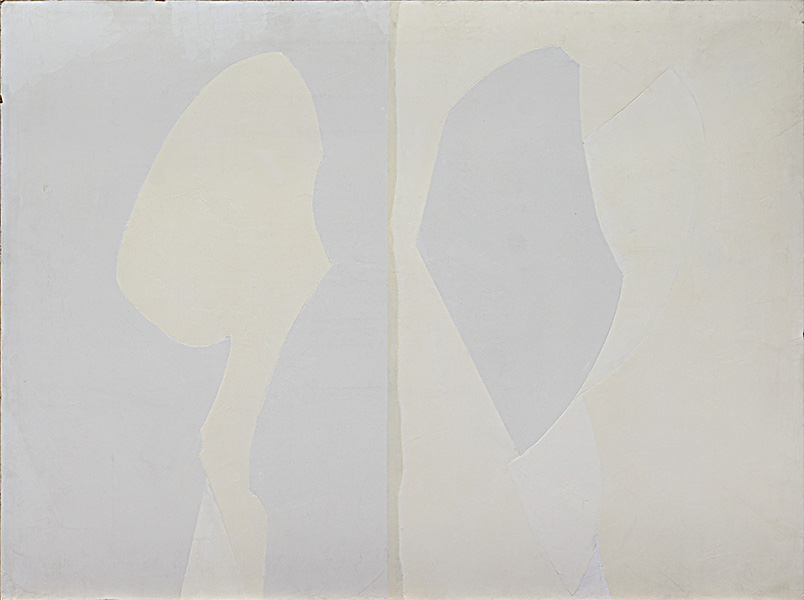 Sackville Series, May 16 1979, oil on masonite, 91 x 122cm - SOLD

Ronbloore.ca is being updated piecemeal. New pages like this one are being posted even when they are in early stages of development. Recently added, completed or updated pages appear in light text on the Contents page (and hovering on them will reveal their editing dates). No page on the site is ever really finalized.
Sackville Series, 1979, oil on masonite, 91 x 122cm
---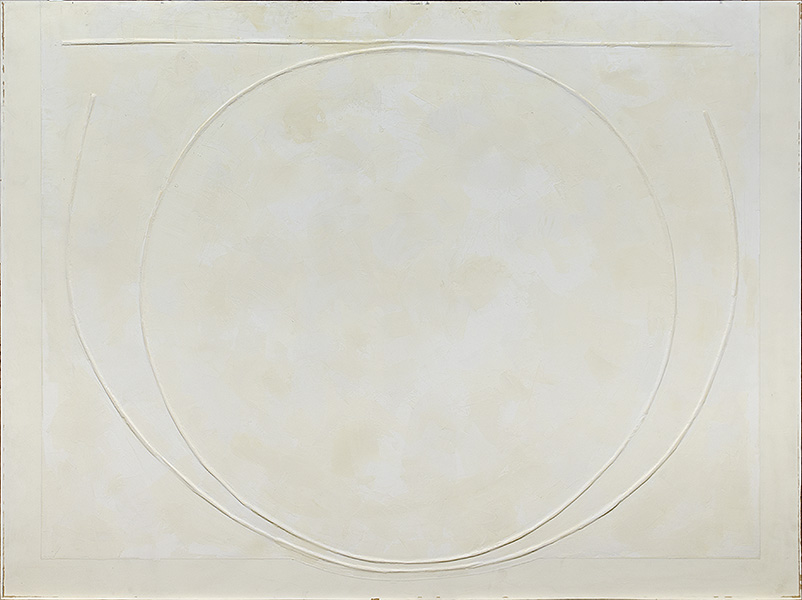 Chasuble Series, 1983, oil on masonite, 91 x 122cm - SOLD
"I don't think the function of art is to be "art." We make it that. And teach it in our art history courses. The function of art has been to communicate ethical, religious values. And it can be done with a landscape or it can be done with a portrait."


- Symposium on the Sacred in Art, CBC-TV (printed in artscanada, April/May 1971)
"On a visit to the Victoria and Albert Museum in 1982, Bloore was struck by a display of medieval chasubles, the hooded, sleeveless vestments worn over the alb and stole by Catholic priests officiating at mass. The shapes are simple and elegant; the textures of the fine silks and rich brocades, woven with exceptional skill and in great detail, fascinated him. What ensued was a series of paintings that was inspired by this experience." (Sotheby's 2010)
Bloore commented on the Chasuble series, "For years I had been concerned with establishing a low-relief image in oil paint on masonite, at times spray painting certain surfaces or glazing other areas. The paints are normally spread, raised and shaped by flexible paint scrapers. Japanese chopsticks are the latest addition to my working tools. The paint is thinly layered with the scraper and then stroked through rapidly at varying angles with the chopsticks. The direct result is a visual, very active surface. There is no one way of seeing these works. Changes in lighting conditions or the viewers' movements shift the surface patterns, and the painting is transformed." (quoted by Sotheby's 2010)
Chasuble Series, 1983, oil on masonite, 91 x 122cm
---
December 16-24 1991, oil on masonite, 122 x 122cm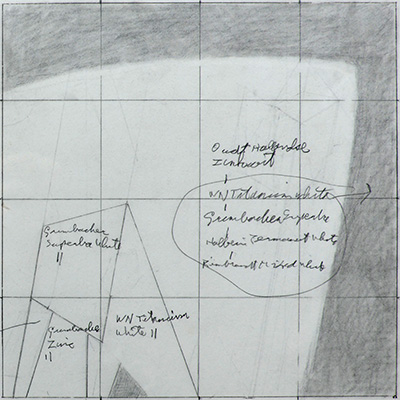 February 10 1993, oil on masonite, 122 x 122cm - SOLD
---
White Line Series No.12, July 8 1996, oil on masonite, 122 x 183cm - SOLD
---
Blue Series, May 16 1979, oil on masonite, 91 x 122cm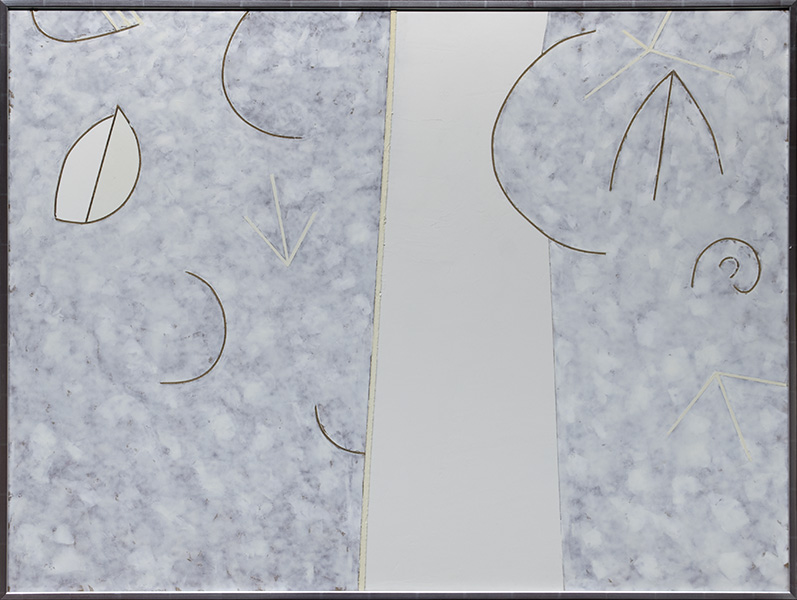 Blue Series, 1979, oil on masonite, 91 x 122cm
---
New Series, June 14 2000, oil on masonite, 122 x 122cm - SOLD
---
The Works on Paper
---
May 16 1980, gouache, ink, pencil on paper, 76 x 122cm
May 16 1980, gouache, ink, pencil on paper, 76 x 122cm
---
May 16 1980, sumi ink on paper, 76 x 122cm
May 16 1980, sumi ink on paper, 76 x 122cm
August 18 1982, sumi ink on paper, 76 x 122cm - SOLD
---
May 16 1980, charcoal on paper, 76 x 122cm
---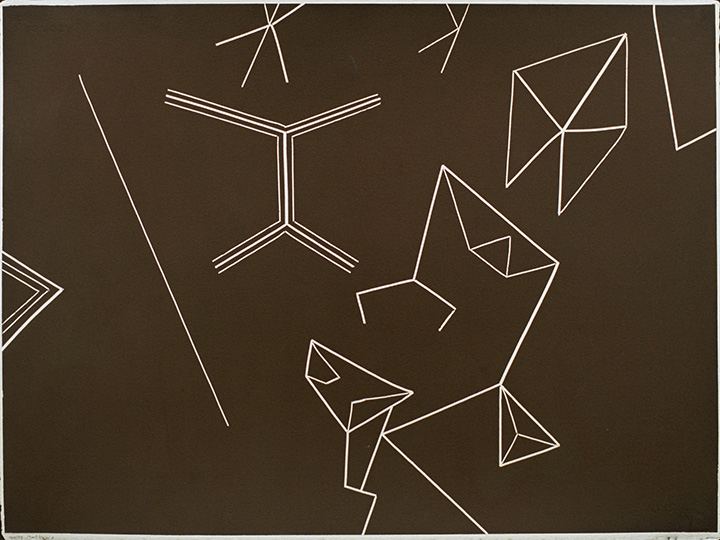 April 18 1994, ink on paper, 76 x 122cm
May 3 1994, ink on paper, 76 x 122cm - SOLD
---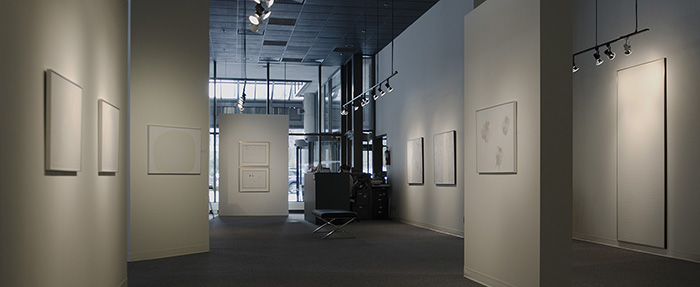 RON BLOORE, UNTITLED
The Wallace Galleries, Oct 20 - Nov 9 2016