Going... Going... Going... Nowhere!
Painting #9, 1964-5, Oil on Masonite, 24 x 36" Click to see larger
So a familiar piece turned up in Heffel's March 2017 on line auction. And predictably, it received no bids. It is a great piece of history, radically unique even to this day and a beautiful old painting. And so, no bids.
This White Line Painting from 1965 being cast at the claws of today's sightless carrion was originally displayed back in the last century by none other than Dorothy Cameron.
It is called number 9 and it appears ninth in a column of the Exhibition Catalogue of the show that Cameron traveled to the New Brunswick Museum and the Winnipeg Art Gallery in 1965. Notably, the exhibition hung in a commercial gallery in Toronto and in public galleries elsewhere.
Also on that list is a painting called Byzantium which was auctioned in 2006. That painting was given an estimate of $2,000-2,500 back then but it sold to a certain Mr. Thomson, who knows a deal when he sees one, for over $55,000. That story, and an image of the painting is here. Or! you can see the actual painting itself right now, I am told, by visiting (for a fee of course) Mr. Thomson's personal display gallery at the provincial Art Gallery of Ontario.
Why, you should be forgiven for asking, are government employees guarding and displaying a private citizen's art in a public gallery and charging the public admission fees to see it? That is a question for another page, definitely NOT the Frequently Asked Questions page.
Here, above and below are some of the 2 foot by 2 foot paintings as they hung in the Dorothy Cameron Gallery in Toronto.
There's a couple more familiar squares here too: the two grids. One sold foolishly at auction a while back for only $10,000 and the other is shown below selling a couple of years later at the Moore Gallery in 2011 for $40,000. And those are just 2-by-2's! This current piece is a 2-by-3. The Wallace Galleries in Calgary just sold a 1960 2-by-4 in October '16 for $71,000.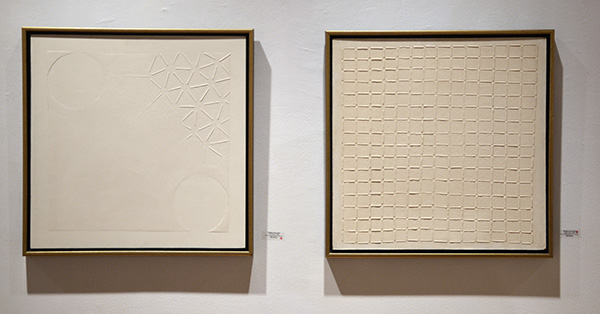 Should have been an interesting auction. But when are auctions ever what they should be? They should be honest, but Heffel keeps saying Bloore was in the RSC when they know he was not and acknowledge it. But really, would that be to his credit? Is that a valued measure of an artist, the clubs, academies and societies he gets attached to? Is that even a reliable measure of an accountant?