Happy 30th Anninversary to
the Wallace Galleries!
(September 2017)
The Wallace Galleries in Calgary AB celebrated their 30th anniversary this year with an exhibition from Sept. 14 to Oct. 11 featuring all of their significant stable of artists. Fresh new works were the order of the day, and some very old Bloores can appear fresh and new, so we looked for a 30 year old work.
July 9 1987, Oil on Masonite, 24 x 36" Click to see larger
And there is one. The estate has only one painting from 1987. And it is stunning and unique. Moreover, the estate has records of just two paintings being done by Bloore that year, in July. They stand like markers between the paintings that went before this transitional year and all the later works. They integrate, in paint, for the first time the dramatic spatial effects Bloore developed in the ink works of '83 to '86.
December 15 1984, Ink on Arches paper, 22 x 30" at Wallace Galleries
The other work, finished two days earlier, and now in a private collection, took a more two dimensional approach to the ink works' compositional style.
July 7 1987, Oil on Masonite, 24 x 30", Private Collection
It's obvious success seems to have spurred Bloore on to the ink works' richer spatial effects like evoking a deep and complex background. The ink work examples shown here are currently in the Wallace Gallery stock.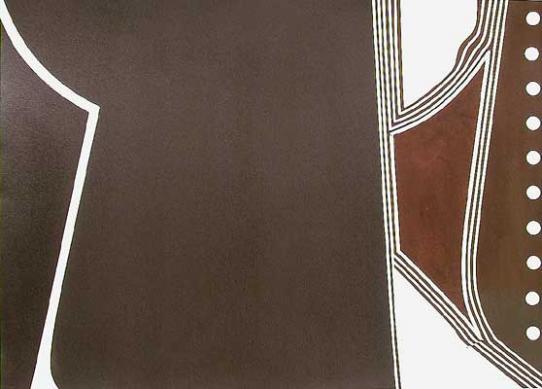 August 8 1983, Ink on Arches paper, 22 x 30" at Wallace Galleries
In celebration of the anniversary and also in response to the outstanding success of last year's Wallace Gallery exhibition Ronald Bloore: Untitled , two other estate paintings accompanied the 1987 work to Calgary. This 2003 piece is one of the last White-on-White paintings and even includes a small window onto the brown world of the works to come.
July 7 2003, Oil on Masonite, 48 x 32" Click to see larger
And finally, and long overdue, the Wallace Gallery now has available one of the last series of Bloore's long career. A major work which was featured in the Ronald Bloore: Fragments of Infinity travelling exhibition put on by the Mackenzie Art Gallery of Regina.
Yellow Series #7, July 29 2006, Oil on Masonite, 48 x 48" from Fragments