Sitting with some worry beads, and already favouring white for formal dress.
Bloore once won "Best Looking Boy" on a summer sunday at Burlington Beach
In 1949, at 24, at the University of Toronto, Bloore received his B. A. in
Art and Archeology. He then continued his studies at New York University,
Washington University and the Courtauld Institute in London, England
In 1958, Bloore brought his own brand of non-representational painting to
Saskatchewan which he pursued independently at the Emma Lake workshops.
In 1961 Bloore, the enthroned MacKenzie Gallery Director,
gives a solo exhibition to Bloore, the up and coming painter.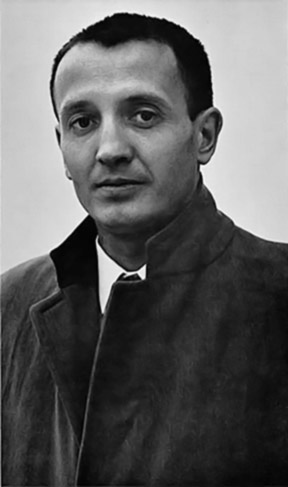 In March '62 Canadian Art magazine surveyed the work of
21 Artists and included photos of them by Philip Pocock.
A photo shoot by John Reeves to promote the 1965 solo show organized by
the Dorothy Cameron Gallery which also travelled to the New Brunswick Museum.
Bloore, the young revolutionary, moved back to Toronto in 1966.
(Photo by Bob Howard - E.P. Taylor Research Library, AGO)
On a trip to London in 1969.
Giving an impromptu talk in front of an early painting, White Sun Green Rim.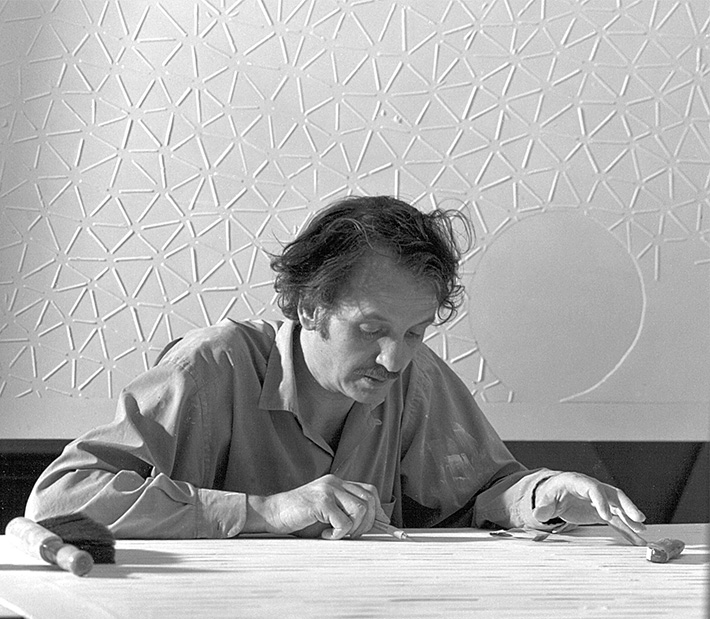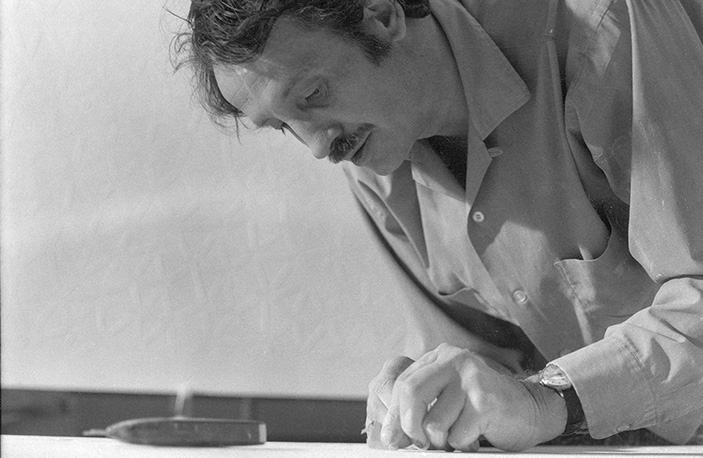 While teaching at York University 1966-86 Bloore took over the disused Stong farm house at the
north end of the grounds as a painting studio. He shared it with Doug Morton during his time there.
Bloore would take breaks out on the veranda of Stong House. Students
were not permitted inside in order to minimize risk of stylistic influence.
"I am not interested in producing followers."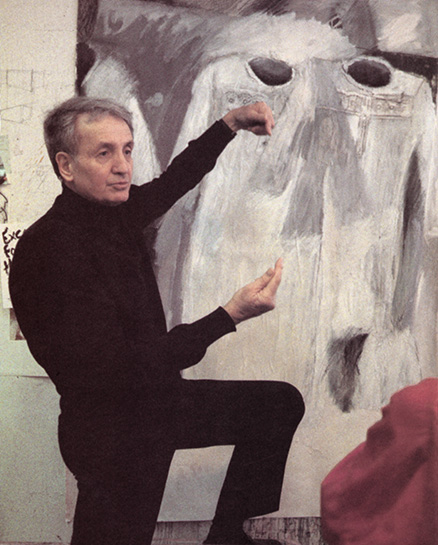 Teaching a 4th year painting studio course at York U.
Another afternoon on the porch of Stong House. This image was used on the front of
the invitation to the Tribute to Ronald Bloore held at the Royal Ontario Museum in 2009.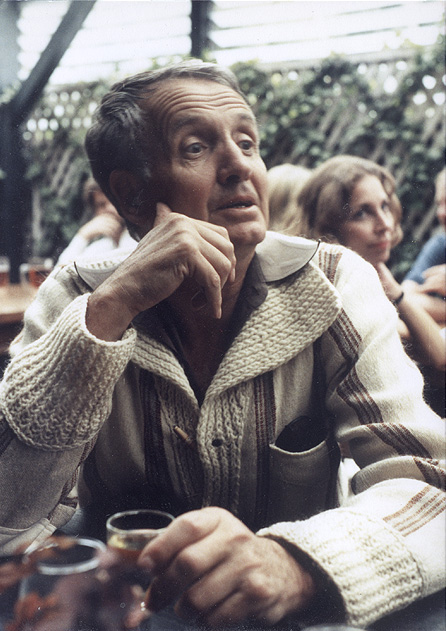 Bloore's much preferred choice of beverage was always Retsina, often
described by those immune to its beauty as an acquired lack of taste.
Near Grimsby, Ontario with Eugene Knapic and other friends drawing from
nature and naturally drawing. The results are featured on the site here.
Bloore again, talking with his hands (when his hands can't do the talking) in front of another painting.
This time it is the grand opening of the Toronto Moore Gallery and the painting is Sign 5 from 1961.
Speech to the University of Regina graduating class of 2001
where he, and the other Regina four, received honourary doctorates.
A quick snap in the Spadina studio by his assistant to be used in the
invitation to the 2002 Three Decades of Work exhibition in Toronto.
In 2005, the year there were no playoffs, where went the StanleyCup? Well, for a
moment it passed through the photo studio on Spadina Avenue right next door to Ron.
When the photographer Linda Corbett began a new career as a documentary filmmaker
in 2004, her first effort was "White Balance: The Work of Ronald Bloore."
Jane Hinton, well known for her exquisite photographs of bridges , is also well
known among her friends for her somewhat unusual photographs of people .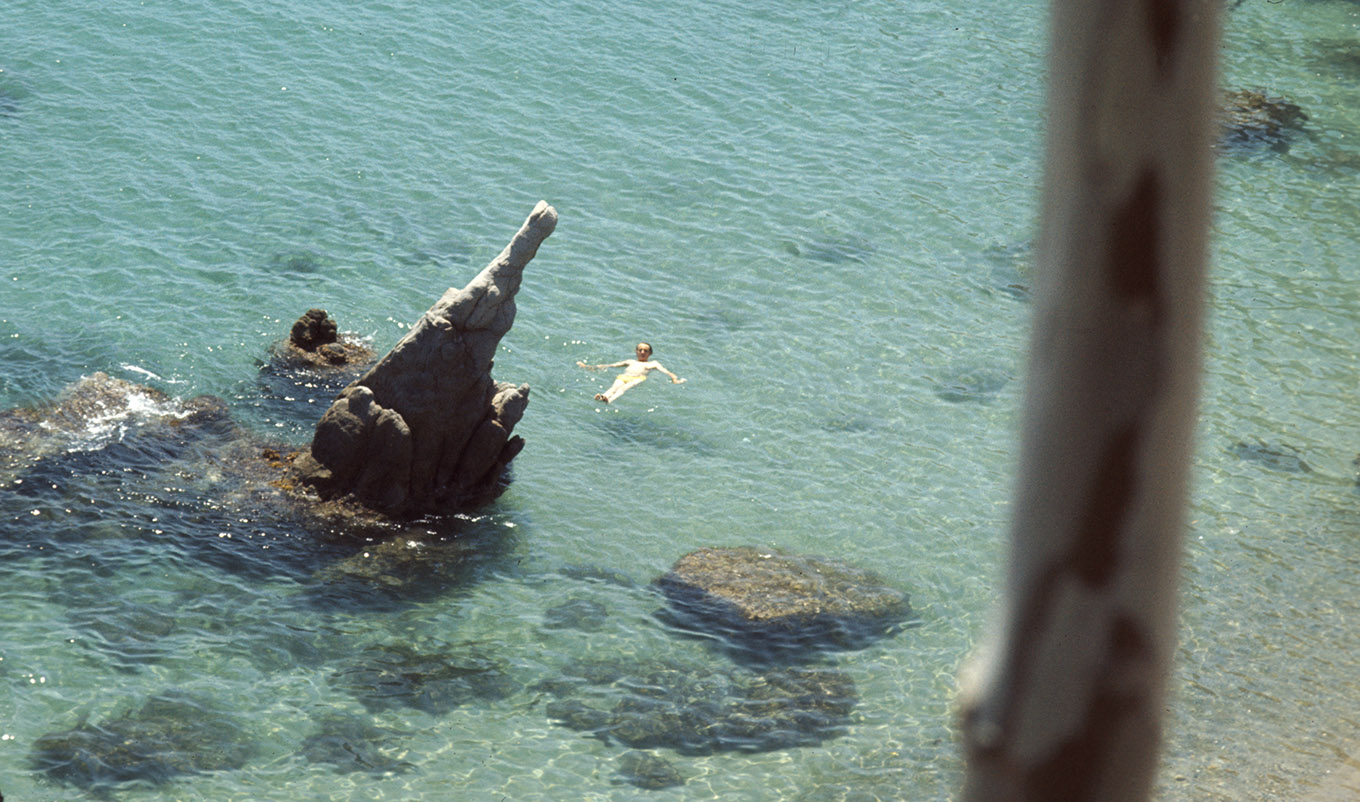 In the Aegean