---
In Calgary, Alberta at
The Nickle Arts Museum

Ronald Bloore:
Fragments of Infinity




February 6 - April 11, 2009

Organized by the Norman Mackenzie Art Gallery and curated by Timothy Long this travelling exhibition of the latest work including the Yellow Series and the Black Line Series made it's first stop in Regina Sept. 5, '07 - Jan. 27, '08 and second in Calgary.

Featured on

the Mackenzie Gallery

site here
and on the Nickle Gallery site below:

The Nickle Arts Museum


---
Old favourites and
the Current Series

Peter Pan Restaurant
ongoing since April,'06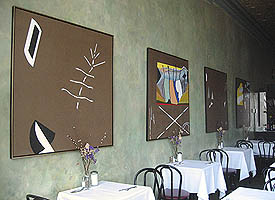 The new brown Bloores just look great on the mottled green walls of Peter Pan, as do the white works from the previous century, so we're rotating old favourites and new paintings through as a permanent changing exhibition. The show is featured on the site here.

Peter Pan is on Queen West at Peter Street


---
White on White on Paper

Paintings on Paper from 1979 - 80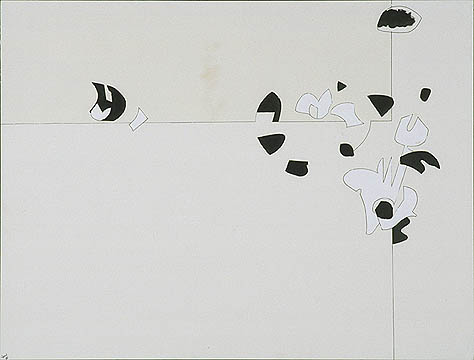 October 10th - 29th, 2008

"Ron Bloore's work is consistent with Kandinsky's notion that lines, squiggles and colour conjure certain feelings and ideas such as rest, movement, coldness, warmth. In this model, form and content are conjoined."
- Peter Redpath

In addition to works from the all white Sackville Series (1979) and the black and white Gouaches (1980), this exhibition featured the pivotal works which linked not only those two series, but all of Bloore's early white-on-white painting on panel and his consequent, more graphic paintings, especially the Dark Chocolates 25 years later.

Many of the pieces in the show are on their website below.

winchestergalleriesltd.com


---
Constructed Visions
Drawings by Ronald Bloore

Carlton University Art Gallery
14 January - 13 April 2008


"Constructed Visions features a selection of the more than 100 Bloore drawings in CUAG's collection. Bloore has made stylistically distinct drawings at specific points throughout his career. These drawings rarely served as studies for his paintings; they are independent and masterful works of art by one of Canada's most acclaimed abstractionists."
- Sandra Dyck, Curator



The opening reception was on Jan. 14, 5-8 p.m. with an address from Lilly Koltun of the National Portrait Gallery and Ron Bloore gave an artist talk on Jan.15 at Noon.



www.carleton.ca/gallery


---
At The Moore Gallery
May 26 - April 16, 2007

A LATE MAY SHOW
white works and new works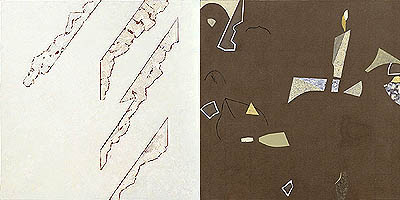 A show of the Yellow Series, Black Line Series and other new brown paintings

side-by-side with older white ones.




---

OF SERVICE

University Club
University of Regina


January 6 - March 10, 2006




Artworks that creatively portray, or are made from, one or more of the triumvirate of table utensils: knife, fork and spoon. The show had works from nine artists including three Sploores, the piece above, a tall white one and the invitation piece from the Journey Through Time Show.


---

BLOORE AT 80
at the Art Gallery of Peterborough


New paintings and the emergence of the hardboard brown


April 30 - May 21, 2005

To celebrate the painter's 80th birthday this exhibition of 18 paintings dating back to 1988 traces the development of Bloore's work since his last major retrospective, Not Without Design, through the Dark Chocolate Series which curator Illi Tamplin, in her eloquent catalogue essay, links to his admiration of Miro and Cimabue.

www.agp.on.ca


---

DARK CHOCOLATE


All new paintings in black and white and colour


April 30 - May 21, 2005

With his DARK CHOCOLATE series Bloore makes a dramatic shift from textural subtleties to strong tone and colour affects. Still non-figurative and pared-down, still as distinct and striking as ever, there is a different beauty and power to these new mysterious images.

www.mooregallery.com


---
Representing Abstraction

The Barnicke Gallery at Hart House
University of Toronto


This exhibition curated by Sarah Stanners highlighting abstract works from the Hart House Permanent Collection included two Bloore paintings from 1969 and 1978.

Sept. 7th - Sept. 30th, 2004


---
Five Inkworks
from the Summer of 1994

Peter Pan Restaurant
Aug. 10 - Sept. 28, 2004


In the summer of 1994 Bloore did a series of Inkworks exploring white black and brown together and using brown as the field. Now the large oil on panel works are in black and white on brown. So it is fun to look back.

Peter Pan is on Queen West at Peter Street


---

The Moore Gallery
Winter Stable Show

included:
"oct.21 - nov.4, 2003"
72 x 48
January 4th - 30th, 2004
www.mooregallery.com
---

Ron Bloore
A Journey Through Time
maquettes
smaller works
sploores



October 15 - November 2, 2003

Spanning four decades, this collection of works including many which had never been exhibited reveals insights into the diversity of his extraordinary career and further reflects both the humour and exactitude of the painter himself. Shown complete on our site here. Reviewed in the winter issue of Vie Des Arts.

www.theartcompany.ca


---
Victoria Day in Victoria!
Ronald Bloore
Maquettes and Small Paintings

May 17th to May 31st, 2003

Oil on hardboard paintings and constructions - studies for large and monumental works - essential confirmations of the colour relationships of paints that can change over their first year. Shown complete on our site here.

winchestergalleriesltd.com


---
Ronald Bloore in San Francisco
Inkworks and Oils on paper
1978 - 1986

May 15th to June 28th, 2003

California's Meridian Gallery devotes the North and South spaces to a show of 26 works, 19 inkworks and 7 oils, Shown complete on our site here.

meridiangallery.org