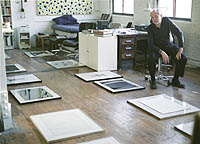 The painter was represented at the opening festivities by his grandson. An artist in his own right whose work has been described as unschooled yet deeply spiritual, Aidan Bloore does not presume to speak for his scholarly forebear. One wonders if Bloore the Elder's famous reticence regarding his themes is hereditary. But on this topic (and others), with what may be intentional irony, the six month old Aidan is not speaking.

This is a wise policy as there are more letters after his granddad's name than he even knows the names of, and his gurglings are at least as abstract as his elder's works on paper.

Still, they rate well above most gurglings of artists and art commentators many months his senior, particularly when facing his predecessor's sometimes monumental panels.

26 works on paper, some from local collections, some from Toronto, occupied both spaces at the Meridian, the sunny south and spare north, for six weeks.