Bloore said he painted his first non-representational work in the summer of 1958. He had just accepted a teaching position in Regina an he took the new work with him. He had always dreamed of becoming an artist and now, suddenly he had. "It was like bursting through the sound barrier. Complete freedom. I knew I could paint that way, non-representationally, from that point on."
What followed were four years of extremely fruitful searching for a distinct personal approach to making his images. Experimenting with different types of paint also required varying the methods of application. This resulted in a diversity of surface textures and these sculptural features had major ramifications in terms of composition and scale. A number of successful styles emerged. Roughly represented by the five images above.
---
In 1962 Bloore received a Senior Arts Fellowship Grant to live and work for one year on the Greek island Lesbos amongst his beloved Byzantine destinations. Towards the end of this sojurn, after a visit to Egypt, he destroyed all the work he had done there, then went back to Regina and eliminated almost all the paintings he had done before the trip.
If Bloore "broke the sound barrier" in 1958, he broke the speed of light in 1963. He had always known why he wanted to paint. Art had been a kind of religion to him since he was five years old. In Regina he had worked out how he, himself, could be a painter. In the mosques of Istanbul and the temples of Egypt he found WHAT he needed to paint. And it was white.
---
Two subtly different effects divided Bloore's paintings into two groups throughout most of his career and a shift seemed to take place through the next decade from one of these being predominant in 1970 to the other taking completely over by 1979.
The major paintings of the early seventies have a field that reads as a surface which supports the built up forms of the composition. By 1979 the field has transformed into a space of vast depth which harbours three dimensional shapes which seem to possess freedom of movement.
---
From 1981 to ;'86 breaking the surface, breaking the rectangle and breaking into three dimensions led Bloore to monumental constructions. From ;'83 to ;'86 his spectacular inkworks went in a new direction with figure/ground/space relationships. All this culminated in ;'89 - ;'91 with a run of over thirty very large, very new works.
While each decade of his career featured much experimentation, the eighties saw the most dramatic variations even in large scale major works and a remarkable range of works on paper up to 100 by 150cm.
---
The last six of the large diptych series, were finished in 1990; number 34, on December 29th. Four foot square paintings now seemed small and manageable. Large works flowed throughout the nineties with many successions of experiments in technique spinning off multiple explorations of each new idea on a fairly grand scale. Series within series, varying proportions, some wild concepts, all balanced by strong thematic consistency.
In January 1997 the scale went monumental again, and could perhaps have stayed that way for another series. But maybe the real challenge could be to go smaller. A thematic shift. A switch to brushes...
---
As the wide experimentation of the nineties kept playing out after 2000, an important new element gained traction in the background. Some of the background was getting left unpainted. Brown masonite was increasingly being left exposed. It was space behind the space.
Among all this multiplying of space and extending of contrast Bloore figured he might finally have opened up some room for colour. Real intense unabashed colour. What he didn't bargain for was Black.
---
In 2004 Bloore blew through once more to another world of space. As the new black elements appeared more and more in his preliminary sketches the technical problem of having his white fields read as background became acute. By simply oiling the masonite substrate Bloore could deepen its brown colour and enhance its subtle texture as well. The new space he obtained is similar to that in many of his inkworks of the eighties.
As with the 4-by-4's of 1991-94 the painter was back in the saddle. And now the panels went vertical for a year and a half, culminating in a pair of paintings essentially entirely black. The panels got square again and five more series ensued over the next few years.
---
The richness and depth of the unmodulated brown field was a revelation. The more colour the artist introduced into the mix the more dynamic and impactful the images became without loss of content. Rather than the colourful figures appearing emotionally derived which Bloore had always said was the greatest danger of including them, it was the new ground that seemed more emotionally charged.
He had found an "old man's style". Unlike late Picasso "railing against death" or late Phillip Guston railing against time, Bloore expressed, as so many times before, a strong and completely individual kind of faith.
---
A Note on Titles
Artworks always left Bloore's studio essentially untitled to avoid limiting the viewer's range of interpretation. They are simply what you visually experience them to be. And, to paraphrase Fernando Pessoa, what you see is who you are.
Certain dealers however did early on assign reassuringly evocative names to pieces, sometimes with the complicity of the painter. And these titles have entered the public record.
Paintings often got nicknames in the studio, usually humourous ones, The Golden Snakes, The Blue Bum, but they were let pass. Nicknames for a few of the series were used for reference on the backs of paintings and in naming their exhibitions. These lapses had extraordinary impacts, ranging from the very positive allusions of "The Byzantine Lights" to the inappropriately whimsical "Dark Chocolates."
Titling and other attempts to extraneously enhance art are a natural part of the art business and Bloore, as an art historian knew this well. Resistance was necessary and obviously futile. To the artist titles are utterly irrelevent but to art lovers they can be critical. As the universities grew more and more and the students grew less and less, Bloore watched the extraneous enhancements of our declining culture overwhelm and abolish art itself.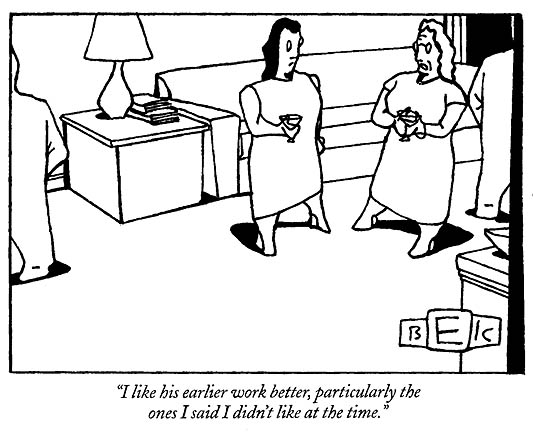 cartoon by Bruce Eric Kaplan, New Yorker Magazine