Constructed Visions features a selection of the more than 100 Bloore drawings in CUAG's collection. Bloore has made stylistically distinct drawings at specific points throughout his career. These drawings rarely served as studies for his paintings; they are independent and masterful works of art by one of Canada's most acclaimed abstractionists.
- Sandra Dyck, Curator
The opening reception was on Jan. 14 2008 at 5-8 p.m. with an address from Lilly Koltun of the National Portrait Gallery. Ron Bloore gave an artist's talk the next day at noon.
(left) 1980, January 26, Gouache and ink on paper, 46 x 61cm
(right) 1980, February 22, Gouache and ink on paper, 46 x 61cm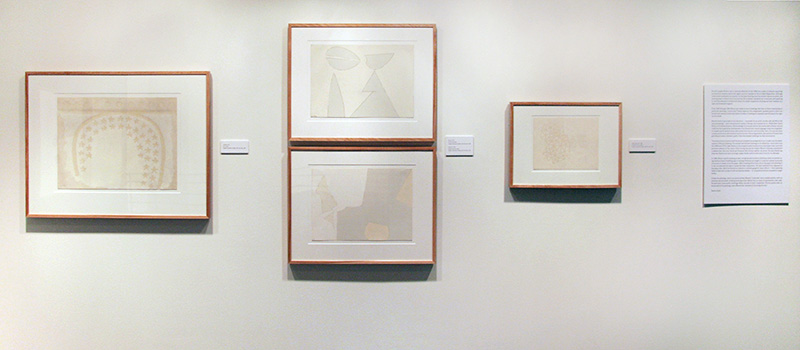 (left) 1977, Oil on paper, 46 x 61cm; (centre-top) 1979, May 29, Ink and oil on paper, 36 x 51cm
(centre-bottom) 1979, August 15, Graphite and oil on paper, 36 x 51cm
(right) 1966, December, Graphite and ink on paper, 26 x 33cm
(left) 1980, Ink on paper, 46 x 61cm; (right) 1982, August 15 #2, Sumi ink on paper, 46 x 61cm
(centre-left) 1983, July 13, Ink on paper, 58 x 77cm; (centre-right) 1982, October 10 #2, Ink on paper, 46 x 61cm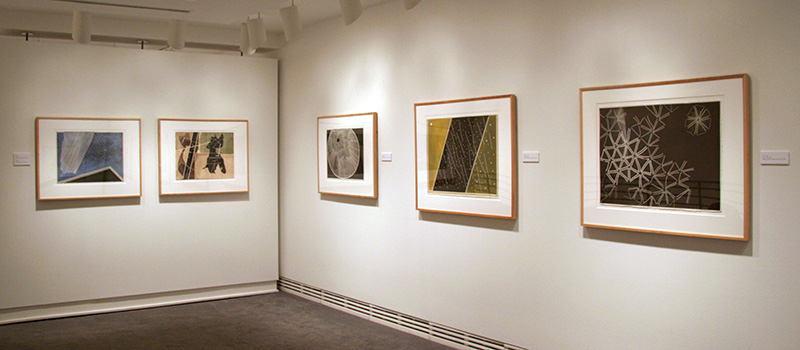 (centre-left) 1982, September 3-5, Sumi ink on paper, 46 x 61cm
(centre-right) 1983, November 20 #1, Ink on paper, 58 x 77cm
(left) 1983, July 11 #1, Ink on paper, 46 x 61cm
(right) 1982, June 15, Ink and Walnut Ink on paper, 46 x 61cm
(left) 1983, July 8 #1, Ink on paper, 46 x 61cm; (right) 1983, May 21, Ink on paper, 46 x 61cm
(centre-left) 1994, June 8, Ink on paper, 77 x 58cm; (centre-right) 1994, June 3-5, Ink on paper, 58 x 77cm
(centre-left) 1994, May 17, Ink on paper, 58 x 77cm; (centre-right) 1986, June 6 #1, Ink on paper, 58 x 77cm
1986, July 4, Ink on paper, 58 x 77cm