From Toronto's Cemeteries to Ontario's Wildlands
On a cold winter morning in 1985 while crossing the field that separated his farmhouse studio from the York University campus lecture halls, Ron Bloore had the heart attack that ended his teaching career, and almost ended everything. After surgery and recovery he was instructed to, among other things, "get out more" and he began taking long walks that regularly brought him past and into the St. James Cemetery near downtown Toronto. He was also finding himself in many other cemeteries on very many mornings those days saying adieu to the friends and colleagues and other contemporaries who were not making it past their own various heart attacks and other such attacks. And it struck him that these were some very peaceful, pleasant places where you could draw without people distracting you or noticing that you can't draw.
When ex-students, now fellow painters and friends, Eugene Knapik and Sheila Gregory saw that Bloore had been doing open air sketching alone and occasionally with David Partridge at the local cemetery and at Partridge's cottage on Stony Lake they insisted on starting regular Sunday sketching and painting expeditions to random locations around southern Ontario. This was about 1989. The core group ended up being Eugene and Sheila, shown here with Ron...
...Ardis Breeze, shown here on another day with Ron and Eugene (wearing some rather shocking red glasses that were no doubt fashionable at the time)...
...and Tim Noonan (below). After disembarking from the car and hoisting the weaponry chosen for that day they would each pursue inspiration in whatever direction their Muse would lead them, there to engage with Nature until hunger or weather or Time called their conjuring to a stop. Noonan, usually off in some distant spot, would be summoned by all the others yelling in unison, and often they would have search down various paths, to find him and tell him it was time to go.
Along the side of one of Bloore's sketches is recorded this stray comment of Tim's, with the date and location duly noted: "I try to not let the landscape interfere with my painting." May 16, 1993, Mono Cliffs.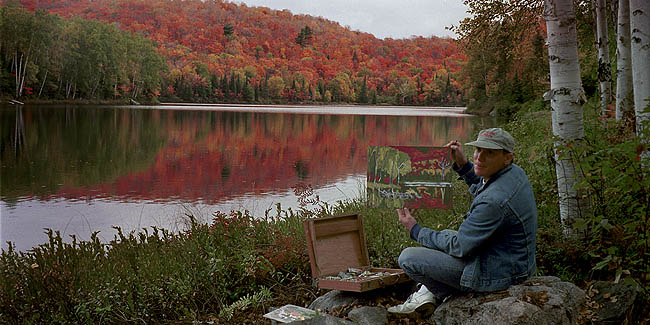 Among the trees and the hillsides, and the occasional rural cemeteries, or "Stone Orchards" as he liked to call them, Bloore was like an old Zen master with the simplest of tools and the sparest of techniques, dispensing the occasional curt and cryptic comments to the acolytes who sketched colourfully and wildly with oils on panels and watercolours on paper blocks. But he did once or twice break out a painting set of his own, as is evidenced below, but none of these efforts were kept.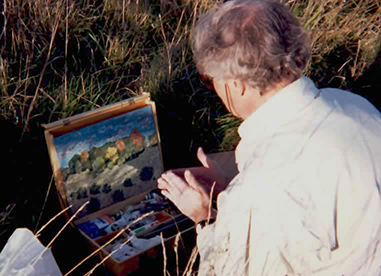 Only one time did they manage to drag along Claude Breeze, though his wife Ardis was a regular. Breeze had "had enough of that sort of thing in the old days back at Banff with Tony Urquhart. Now there is a guy who can draw!"
And here we see Ron caught in the rather animated mode that Claude often brought out in him.